Don't Settle for LAME!  Do it right….DO It YOUR WAY with US!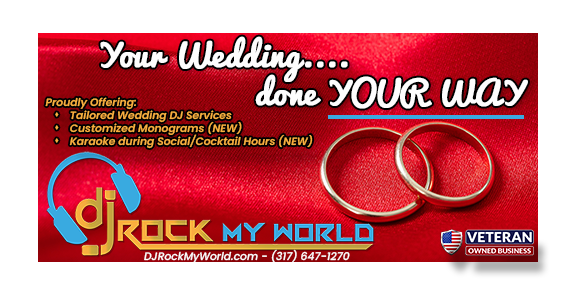 Don't Settle for….
EXPENSIVE – You can have an AWESOME memorable wedding DJ experience for you and your guests without breaking the bank!
CHEAP – Don't choose the "Fly By Night DJs" that may not even be in business when it's time for your wedding.  Go with a Pro!
COOKIE-CUTTER – Your wedding IS special and should be treated that way.  Don't get plugged into a "cookie-cutter" DJ package with the other guys!
INEXPERIENCED – Don't settle for the new DJ who's "done a couple of weddings."  Go with experience when it counts!
---
We believe that we exist to enhance the experience of your you and guests, such that they will remember your event into the future.  We can only do this by working closely with you, providing top quality, professional equipment, and being top DJs and Emcees to bring your event to life.
---
Check Out Our Wedding Packages
For weddings, we offer two packages.  Click to review the options.


---
Choose DJ Rock My World for Peace of Mind and a GREAT EXPERIENCE
on one of your life's MOST MEMORABLE days!
Check out what some of our clients say about us:
It was a great experience that will last a lifetime!
"It was a great experience that will last a lifetime!  Couldn't have chosen a better DJ.  Great job!"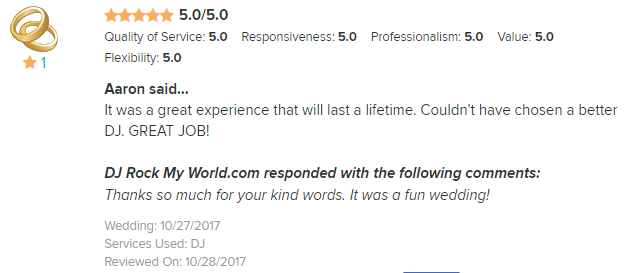 A. Hendersons
Thank You for Dealing with the Craziness…
"Thank you for dealing with the craziness and keeping everything chill and running smoothly, ESPECIALLY when the coordinator lacked in coordinating!  ?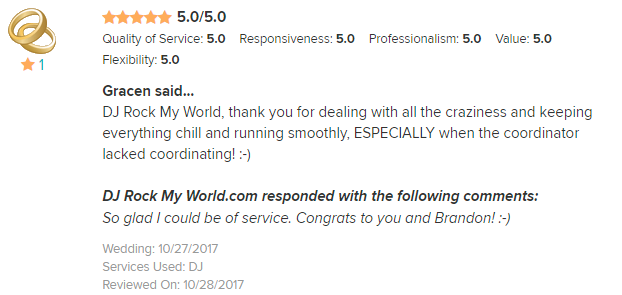 What a wonderful choice in DJs we made!
"What a wonderful choice in DJs we made!  ?   We are extremely happy.  From start to finish, this was an easy and pleasant experience.  [DJ Rock My World] was very patient with multiple parties giving input and very flexible on the day of the wedding – adding and altering song choices and taking requests.  Perfect volumes for dinner and then dancing.  Good MC also.  Highly recommend!"
K. Grothouse - Noblesville, Indiana